A Poster With 201 Capitals From 196 Countries. Find Out Which Countries Have More Than One Capital.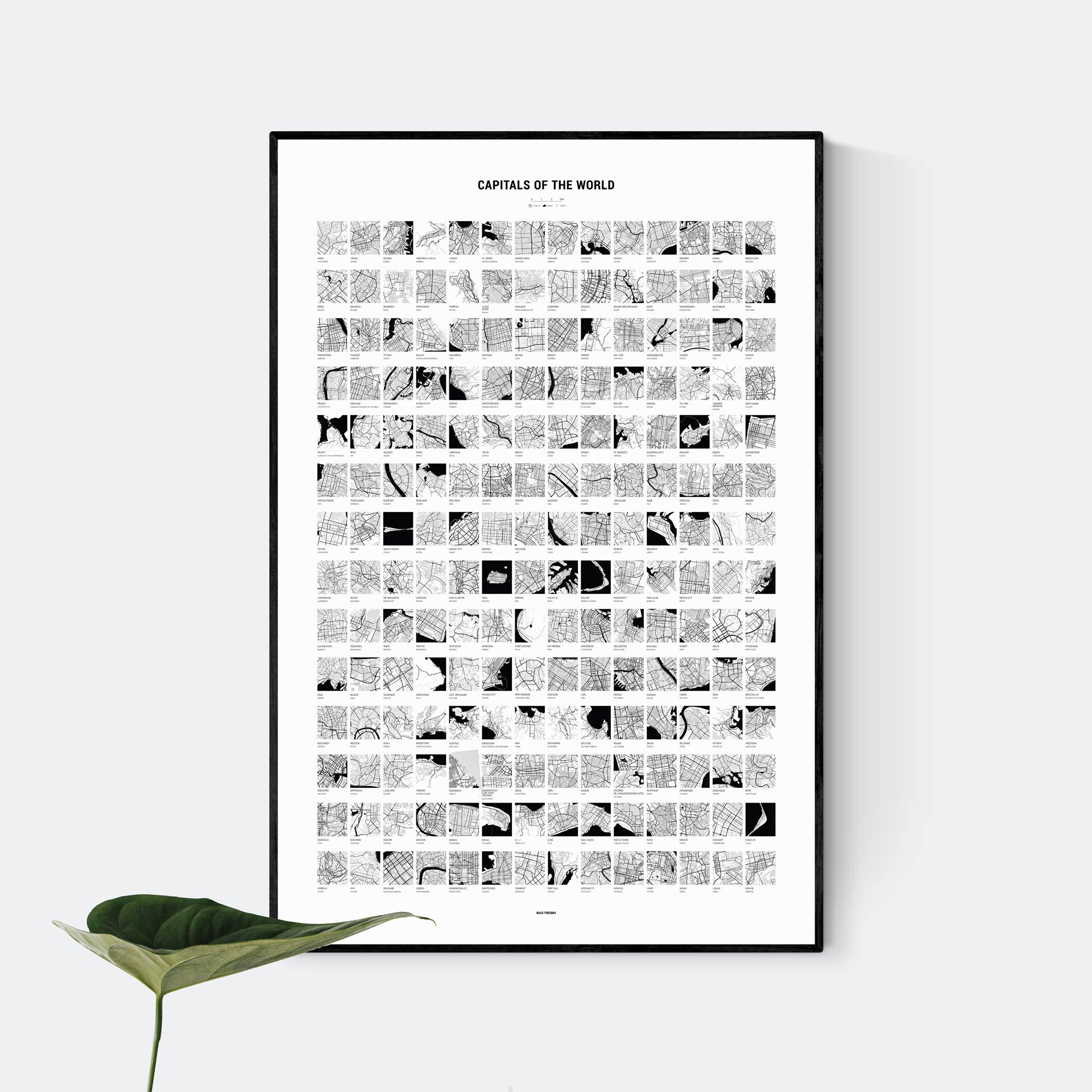 We put all 201 capitals from 196 countries on a poster. Side by side. Each square shows the street networks of an equally scaled area from the capital's city centre. So you can look and compare the roads, rivers and densities of the cities.Most countries have ONE capital city. Some countries have TWO. And one even has THREE.
Find out which countries are we talking about and what's the reason behind the multiple capitals.
SRI LANKA. Capitals: Colombo Sri Jayawardenepura Kotte.
A little while after gaining its independence, the government of Sri Lanka decided that the capital of Colombo became too politically congested. In 1977 the government moved the national legislature to a suburb of Colombo – Sri Jayawardenepura Kotte. A few years later in 1982, the country's Parliament moved to Sri Jayawardenepura Kotte as well, and it has since become the legislative capital while Colombo remains the commercial capital.
BOLIVIA. Capitals: Sucre La Paz.
The reason behind Bolivia having two capital cities goes back to the Federal Revolution of 1899. The Liberal party overthrew the Conservative party and wanted to move the official capital to La Paz. Eventually, it was agreed on to keep the official capital in Sucre, while La Paz would also get more power, as the legislative and executive seats of the government would be located there.
ESWATINI. Capitals: Mbabane Lobamba.
Eswatini, formerly known as Swaziland, has always had two capitals. One of them is Lobamba which is the traditional seat of the kingdom and where the rulers of Eswatini live. It is also the city where the Parliament meets. Mbabane is the administrative capital of the country which deals with all of the other government functions outside of Parliament.
SOUTH AFRICA. Capitals: Cape Town, Bloemfontein Pretoria.
South Africa is the only country in the world with three different official capitals, and the reason behind it goes back to the unification of South Africa in 1910. The founding provinces of South Africa could not decide upon a capital city that they all could share. Eventually, they came to an agreement where each of them would have a capital: Cape Colony (Cape Town), Orange River Colony (Bloemfontein) and Transvaal Colony (Pretoria). One capital serves as administrative and executive, one as legislative and one as judicial capital.
We hope you got some new information from this blog post. Be sure to share it with your friends as well. And if you fell in love with the poster, click here.