Vision board 101 - How to Manifest Your Dream Life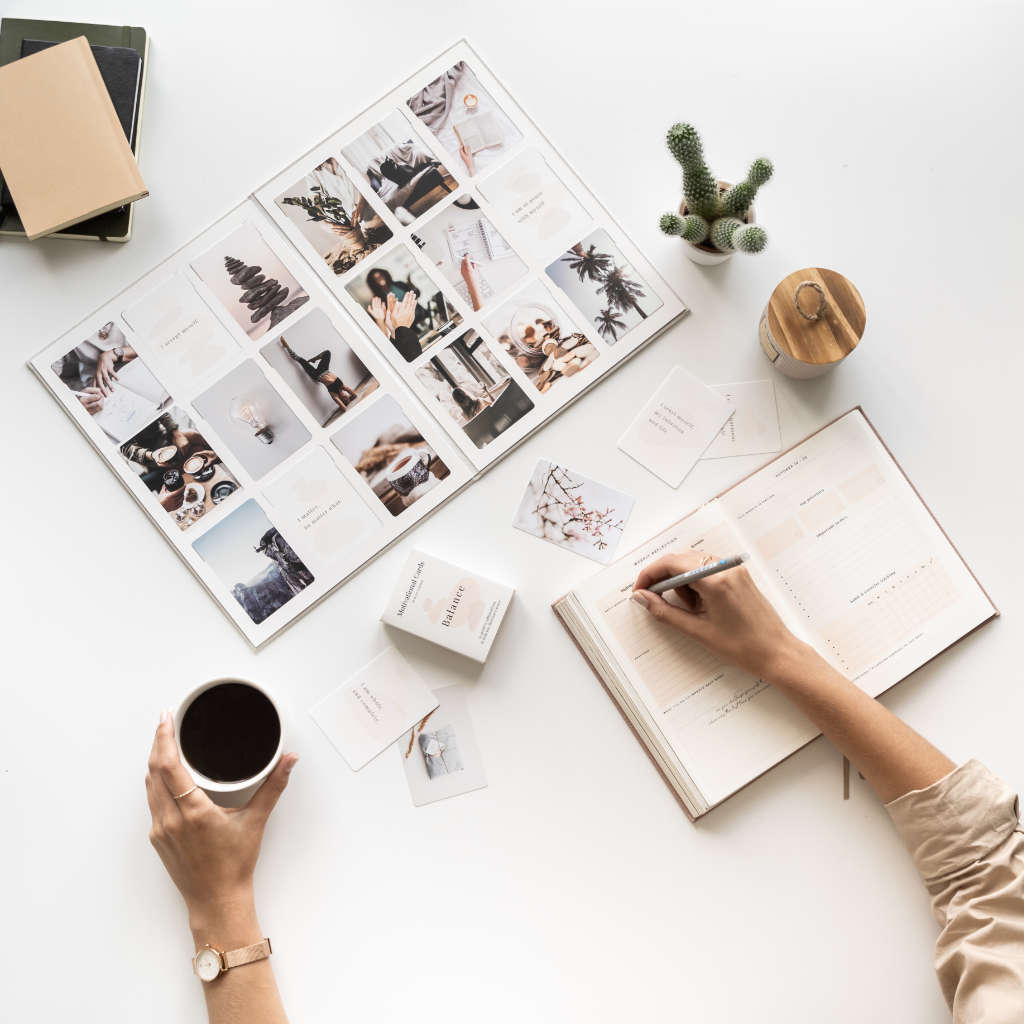 Let's talk about vision boards - the trendy word that many coaches, goal-getters, self-developers and entrepreneurs are using. What exactly is a vision board? How does it work? And should you have one? Don't worry if you don't have answers to all of these questions. After reading this article, you'll have the answers you need.
You're about to discover the power of vision boards and the importance of visualization for achieving your dreams. Through visualization, you have the ability to see your life unfold through your inner eye. Many successful people have used dream boards throughout their lives and now you get to learn what makes them so special. 
What is a vision board?
In short, a vision board (or dream board) is a collection of images, words and quotes that represent the goals you want to achieve and the life you want to live. Having all of your dreams, goals, and affirmations in one place where you can see them daily will give you a clear overview of your intentions and help you to stay focused.
Having a vision board is beneficial to you in many ways. It helps clarify and remember: 
What you want to achieve in life
How you want to feel physically and emotionally
What things you want to have 
What kind of a person you want to be
A vision board can increase your confidence and motivation as well as keep you focused on what you want in life. Whether you need some self-tuning, extra motivation, or help to relieve anxiety about the future, a dream board helps keep you on track. 
How does a vision board help bring you closer to your dream life?
A vision board is a visualization tool. Images can have a deep effect on your imagination and allow you to envision your dreams more vividly.
The first step is to get clear on your goals. If you don't know what you want, how are you supposed to work towards that dream...So ask yourself: What kind of life do I want to live? What makes me the happiest? How do I wish to spend my days? 
The second step is to keep your focus on those dreams. Having your dreams loud and clear in front of you daily helps to work towards them consciously and subconsciously. Return to your vision board as often as possible - it's a great way of getting your daily motivation and fortifying your willpower. 
Introducing Vision Board Reimagined
We believe in the power of a vision board but couldn't find a solution that was…perfect. So we created one: an easy-to-use, no-tools-needed and nice-looking visualization tool for all the dreamers and doers. Our aim was to make the visualization process simple, smooth, and pleasing so that more and more people would do it and live a fulfilling life.
Vision Board Reimagined is probably the most simple to use and well-designed vision board out there. You don't need any tools, magazines, glue or even a printer to create it. All you need is included in the kit. This saves you time, nerves and it will always look nice. Always. Mix and match the visualization cards with motivational cards to unleash its full potential. We did the designing for you, so you can keep your focus on building your dream life. Get your very own Vision Board Reimagined here!

What should you include on your vision board?
The first rule is, there really are no rules. You should do what feels right and what works best for you. However, if you need some ideas and inspiration then we have a few suggestions.


What topics to include?
Your vision board can represent all kinds of different topics extending between health, career, finances, relationships, home, hobbies, personal growth and travel, to name some of the more common themes. But you can add anything that's important for you. 
Your board can be a balanced combination of all of these, focus on just one theme, or you can even create a separate board for each aspect of your life (e.g. a family board and a career board). Whatever works best for you.


How big should your dreams be?
The dreams and goals that you add can be just as big or small as you wish them to be. We encourage you to dream big, but in the end, these are your dreams and they need to feel right for you.
Some people create goals linked to changing habits (e.g. regular workout, drinking more water, daily meditation etc). These might not be too wild but the board serves as a daily reminder that these are good habits you want to create.
Another option is to add more ambitious goals that are nearing the edges of your comfort zone (e.g. living in another country, getting a degree in another field, doing a more challenging yoga retreat, etc). 
Finally, you have the really really big, outrageous dreams that are so big they scare you (e.g. building your own business empire, becoming a world-famous author etc). Don't hesitate to visualize these dreams as well. If you never ask, then you never receive.
Should you have spiritual or materialistic goals?
The dreams can be concrete and materialistic as well as spiritual - there are no right or wrong answers. You can even focus on the feelings that you wish to bring into your life by creating something closer to a mood board.
How many goals should you put on your board?
The short answer is - as many as you can focus on. We've seen a lot of vision boards and the number of goals has varied from three to 60 (wow), but a good average is somewhere between 6 and 18. It really depends on your goals and also how focused you are. Your dedication will determine how many you can handle. 
Where should you keep your vision board?
As we've already mentioned, you should be looking at your vision board on a daily basis. With this in mind, put your dream board somewhere you spend a lot of time. For instance, the office is a popular location for a vision board. People like to place it right on their desk so they can glance at it while they work. 
Another great option is near the kitchen. It's likely you spend a decent amount of time in the kitchen making coffee, preparing meals, or just grabbing a glass from the shelf. Place your vision board on the counter where you can check it out as you eat your breakfast every morning. 
You can also consider storing it on your nightstand. Every night before bed or first thing in the morning, pull out your dream board and get inspired. Viewing your goals will help set your daily intentions and keep your life vision at the forefront of your mind. 
Should you keep your vision board private?
It's entirely up to you whether or not to share your vision board with others. It's important that you view your goals on a daily basis, but there's no reason for others to see them. One reason people share their boards is to create accountability. If you feel like you need encouragement from others to stay motivated, then sharing your vision board with friends or loved ones could be the push you need to stay committed.
Some people, however, prefer to keep their board a secret. If you don't think your friends or family would be very supportive of some of your goals then don't let them see it. You don't need any criticisms of your dreams, so have a storage space available for when people come to visit. If your vision board is normally on display near your desk, close the covers and place it in a drawer or set it in a closet until people leave. The vision board holds your personal dreams and they can be as private or as public as you want. 
5-step tutorial for creating your Vision Board Reimagined
One of the great things about the Vision Board Reimagined is that it's easy to create. Plus, it can be really fun and exciting to put together images, goals, and quotes outlining your dreams. Below are the five easy steps you can take to create your own vision board.
Take time for yourself
You need to be clear of distractions when you work on your vision board. It's hard to find the right images and inspiration when people are constantly calling for your attention. Set the right mood by taking time for yourself and creating an atmosphere that encourages creativity. This might mean lighting a soothing candle, sitting in a comfy blanket, or pouring yourself a glass of something nice.   
Think about your dreams
Now that you have the time and space for yourself, think about your dreams. What goals have you had but struggled to accomplish? What do you want your life to look like in five years? Sit with a pen and paper and jot everything down that comes to mind. Do your best to be specific, too. 
Find the right visuals
You can choose your preferred visualization and motivational cards. Take your card decks and simply start flipping through them to get a feel for which images and words speak to you the most. Take your time. Maybe some cards "feel right" even when you're not sure which dream or goal they represent? Don't dismiss them, search inside yourself, what they symbolize for you. Put all of the cards aside that caught your attention and add up to 18 cards to your Vision Board Reimagined. 
Add personal notes
Once you've chosen the cards you want to use, we recommend that you write comments on the backsides, so you remember your initial thoughts in a few months or a year. For instance, some people find it helpful to put deadlines next to each of their major intentions. Having a date to focus on can help keep you motivated to continue your work. Other people like to add notes about why they're working toward each of their goals. For example, if you have a health board, you might put a note that says "feel confident at the beach with my friends" next to your goal of losing 15 pounds. Specific reminders like this can be really helpful when you look at your vision board each day. 
Place everything on your board
The final step in the vision board process is putting it all together. As you look at all of your selected images and motivational words, make sure you lay them out in a visually appealing way. If you have a beautiful board, you're more likely to look at it every day. Maybe you wish to use rows or columns for the themes, maybe you order your board as a timeline or maybe you want to organize the cards by some visual cue such as color. Get creative. Then slide the cards in the slots on your Vision Board Covers. It's as easy as that.
How often should you use your vision board?
We suggest you use it daily. A great idea is to look at it first thing in the morning to get you in a great mood and super motivated for the day ahead. This will also be a reminder of what you are working toward. Why not keep it in sight when doing your morning yoga or meditation? Another idea is to keep it close to your bed and have a look at it last thing before you fall asleep. Look back on your day with gratitude and prime your subconscious to keep processing your dreams while you sleep.
That being said, maybe working with it daily isn't for you. Instead, try engaging with it weekly. The point is to stay consistent and don't forget about your dreams.
How often should you redo your vision board? 
As often as you wish and need to. The most common interval is once a year, but we've also seen a lot of half-year vision boards. Sometimes you might need to rearrange something every month or even every week. It really depends on your goals and dreams and where you stand with your life. When circumstances change in your life and something doesn't feel relevant anymore, you should replace it. You can update the motivational cards every morning for a new daily motto.


What about the goals that you've completed?
Different people have different opinions on whether you should keep them or replace them on your vision board. The point in keeping them on your board until you make a completely new one is that you should make an extra point of feeling gratitude for what you have received. You get a greater sense of accomplishment that way. However, if you feel those completed goals are somehow holding you back, then replace them. But don't forget to take photos of the board, so you can look back on them in the future and compare the progress.
Can you get your vision board wrong?
Short answer - no. If you are honest with yourself, listen to your gut feeling, delve into your mind, choose what feels right, and follow the dreams that are really yours (not pressure from society, media or friends and family) then you're on the right track. You will certainly get a better sense of where you want your life to go and a kick of motivation to get moving. 
What to watch out for: doing the board too superficially or doing it once and then completely forgetting about it and not putting your focus and energy into it. 
Examples of famous people using vision boards:
A lot of people wonder how celebrities became so successful and for many, vision boards were part of the process. Shay Mitchell, for example, admitted to having a vision board when she was younger. The Pretty Little Liars star talked about how she used a vision board to manifest her dreams and work toward her goals when she was first starting out. 
Kellan Lutz is another celebrity who creates vision boards. Best known for his role as Emmett in the Twilight Saga, Lutz puts together a new vision board every year to focus on his goals. In fact, he is so inspired by vision boards that he even participates in National Vision Board Day where he creates boards with friends and family and encourages people on social media to join in finding their inspiration. 
Singer Katy Perry is another famous person who has talked about the success of her vision board. When Katy was in fourth grade, she made a vision board in class. One of the images she attached to her board was a 1993 picture of Selena holding a Grammy Award. Even at a young age, Katy knew what she wanted to do and in 2009 Katy Perry won a Grammy Award herself for her song "I Kissed a Girl."
Are you ready to create your dream life? Harness the power of visualization and what a vision board can do for you by getting started on your dream board today. The power of intentions can bring clarity to your life and focus your mind on your goals, so don't hesitate to start putting together your board. If you don't feel like you're creative enough to put together a visually appealing dream board, get that idea out of your head. 

You don't have to be artistic to visualize your goals. There are plenty of options to overcoming a creative block and our Vision Board Reimagined is one of them. Our kit comes with photos or illustrations, and motivational cards so you can mix and match to find the inspiration you need. Each card fits perfectly into a designated spot so your board will look clean and well put together. What are you waiting for? Get started imagining your future life and order the Vision Board Reimagined today!