2018 CHRISTMAS GIFT GUIDE: 12 MINIMALIST GIFT IDEAS FOR TRAVELLERS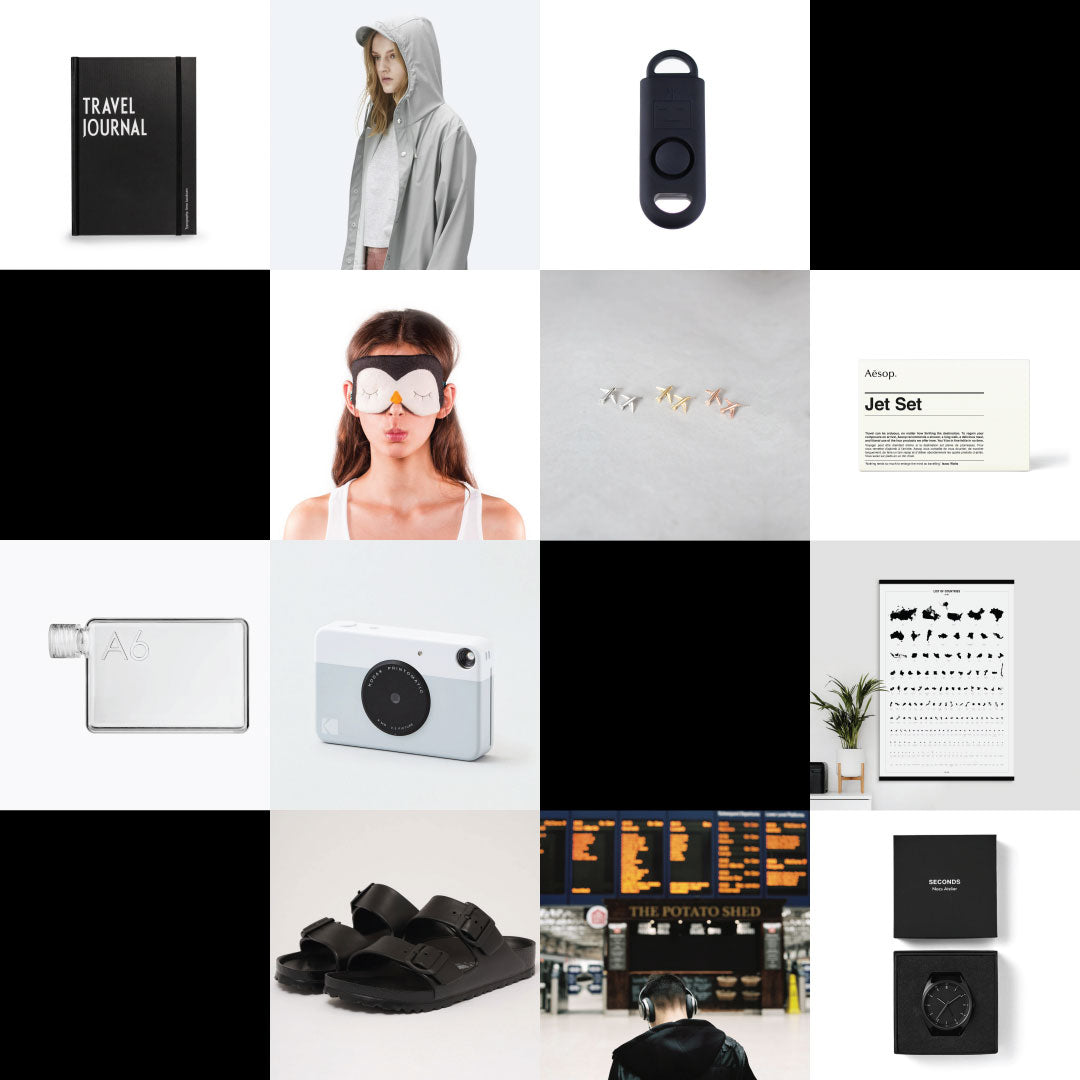 It's that time of the year again. Unexpectedly, as always. To help you out with the Christmas shopping, we put together a list with the most minimalist design gifts for travellers. These are almost as good as actual plane tickets. So make sure to pass this Christmas gift list on to Santa as well.
 12 Minimalist Design Travel Gift Ideas For Christmas 2018:
Price: 35.00€
Going old school with this minimalistic black and white travel notebook. Mark down your next travel with all the important must-see's and to-do's and write down highlights after the trip. It's a nice way to keep your travels organised. And real pen'n'paper never goes out of style.
Price starting from 19.29€
Memobottle has turned the traveller's best friend - the water bottle - into a design piece you don't want to hide in your bag. Although it fits there perfectly. Following the standard paper sizes from A7-A5, Memobottle has designed a slim unique-looking bottle that will help you stay hydrated during your adventures.
Price: 154.28€
The Seconds GMT watch is perfect for someone who is away from home a lot. Tracking two time zones at the same time is great for knowing when to keep in touch with your loved ones back at home. It's a practical and timeless design piece.
Price: 28.10€
Whether you are at a pool party in LA or trying to survive the rainy season in Vietnam, these sandals will not let you down. Choose from different colours and styles, Birkenstock Eva sandals are waterproof, easy to clean, ultra lightweight (perfect for packing) and look minimalistic. The sandals support your feet even after the longest days of exploring new places. Might just need to take two pairs.
Price: 34.50
Love those endless travel days full of plane and train and bus rides? Yeah, we neither. All you can really do to pass the time is to sleep. And you need great gear for that. The sleeping masks by Ööloom don't let any light in and make you 10% cuter and will bring smiles on the other passengers' faces. We tested this out ourselves.
Price:61.36€
This PRINTOMATIC camera is perfect for capturing the best travel moments on the go. The photos are printed directly from the camera - no computer connection nor ink cartridges needed. You can send greetings to your family from the other side of the world or hang the travel photos on your wall.
Price starting from 21.92€
Why get one book, if you can get hundreds at a time without the hustle of actually fitting them all in your luggage. Read or listen the Loney Planet series and your favourite books on a plane, at a beach or during long road trips.
Price starting from 16.66€
Being in a new place can be scary sometimes, especially for a female traveller. Hopefully, you don't ever have to ever use this, but having the Basu portable alarm attached to your bag or keys is a smart idea for just in case. Better safe than sorry, you know.
Price: 10.52€
These minimalistic airplane stud earrings by Lovoda remind you all the past trips and make you dream about next far-away destinations. It's a timeless gift for a wanderluster, who loves being up in the air. And it doesn't take up a lot of room in the luggage.
Price starting from 80.00€
A good waterproof jacket is an essential item in every traveller's closet. Rains waterproof jackets, which are available in many different colours and styles, make you actually enjoy the wet days. And due to the great quality, it's a piece that will stay in your luggage for many-many years.
Price: 33.00€
A travel kit with all the hair and body essentials you'll need on your next trip. After a long flight, all you need is these 4 products and a shower to feel like a human again. A traveller with great taste will always, and we mean ALWAYS, appreciate a lil' something from Aesop.
Price: 29.90€
A travel gift list wouldn't be complete without a world map. And this one is not your average map. This List of Countries poster by Bold Tuesday shows 196 countries by size from biggest to smallest and puts the world in a whole new perspective. Cool, huh. You can mark where you've been with the red sticker dots included. So learn and explore the world.
–
Christmas is a busy time. We hope we made yours a little easier with these travel gift ideas. Treat yourself and your loved ones. For more inspiration, see our travel gift collection on Pinterest.