5 REASONS YOU SHOULD MARK YOUR TRAVELS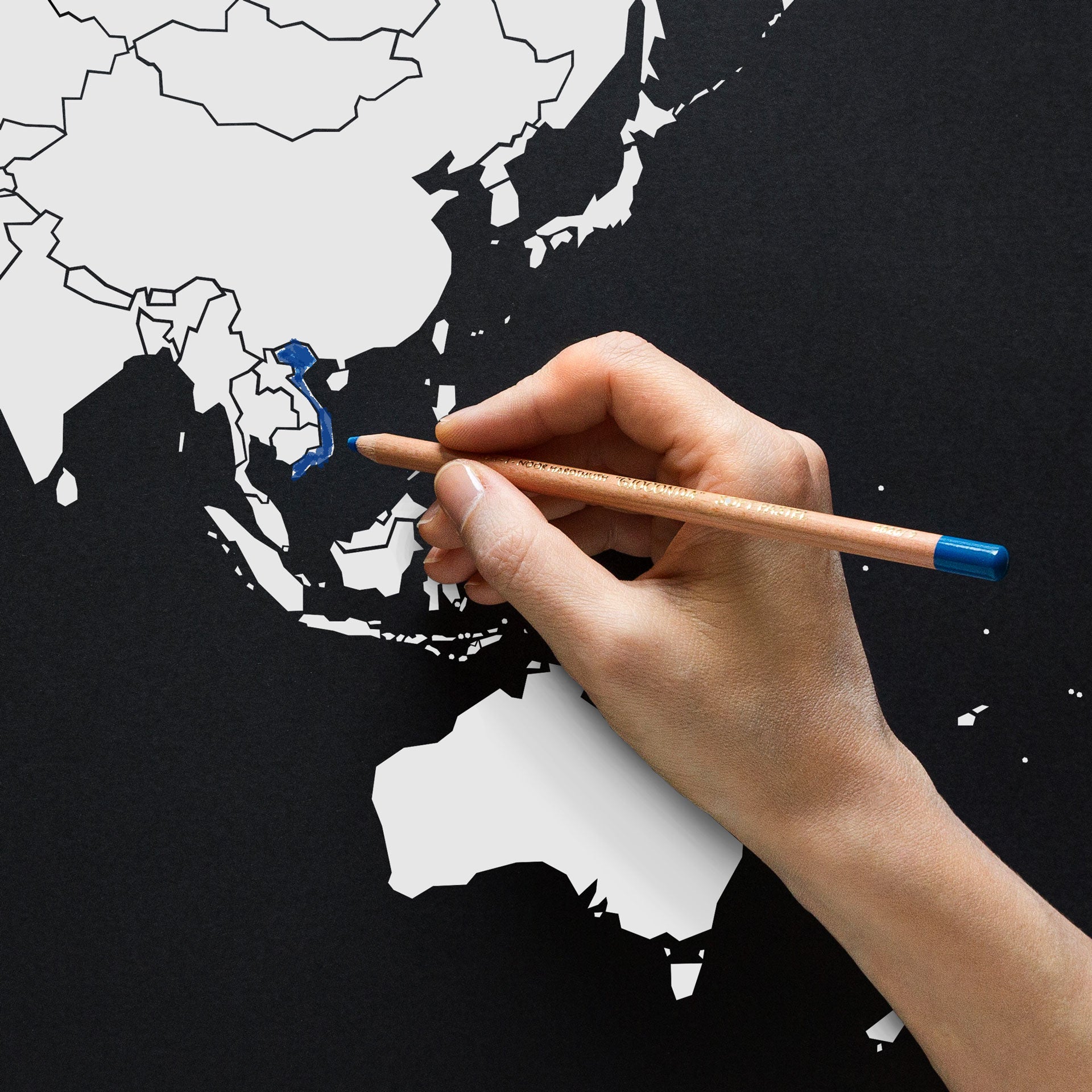 Traveling makes you feel amazing, right? Trying new foods, exploring new places and getting to know the locals is pretty exciting. Unfortunately, the good feeling you get from traveling ends with flying back home. But it does not have to be this way.
There is a  way to make your travels last longer! Whole lotta longer - like capturing the trips on a world map. Or a poster. Call it whatever you want. This is also the best solution, if your memory is like a goldfish and you cannot seem to remember all the amazing places you have been. You are still not convinced that you need a travel map? Well..
HERE ARE THE 5 MOST IMPORTANT REASONS TO MARK YOUR TRAVELS:
1. A TRAVEL MAP MOTIVATES YOU TO DISCOVER NEW PLACES
Seeing where you have already been (and moreover where you have not been) makes it easier to pick new destinations. Why go again to Paris or Bangkok, when Rome, Prague or Hanoi are yet undiscovered. The world is full of interesting places, so don't you dare go back to the same places over and over again. The planet Earth is just too wondrous and too versatile to not be explored.  
2. MARKING YOUR TRAVELS GIVES YOU A GOOD OVERVIEW OF VISITED PLACES
When marked down on a map, you see exactly how much (or how little) you have seen the world. It is a great wake up call to pack your bag and go traveling. You can find hundreds of excuses not to go, but if the map looks empty, it gives you one BIG reason to by these plane tickets. And maybe you think you have seen quite a bit of the world. But putting the places on the map makes you realize that a lot of countries, island or even continents are left totally undiscovered.
3. IT ALSO KEEPS YOUR MEMORIES ALIVE
Traveling creates so many unforgettable experiences. You can definitely agree that some of the best memories of your life are made during traveling. Just passing by your world map on monday mornings, you are instantly reminded of the beaches in Thailand, the mountains in Austria, the rice fields in Bali and the city lights in Paris. Does it already give you the chills? It. Feels. Good.
4. YOUR TRAVELS ARE UNIQUE. SO IS YOUR TRAVEL MAP
It will be your map. You create your own world with your own travels. It's totally unique. And one of a kind. Seriously, what could be more meaningful than your personal travels hanging on the wall? And it stays unique with you - the map changes with every adventure and trip you take. Because of that you'll never get bored of it, because it never stays the same.
5. IT'S SIMPLY AN EYE CANDY ON YOUR WALL
In addition to tracking all your travels and memories, it's also a strong design statement in your home. So choose it carefully and match it with your personal taste. It can be as colourful as the world itself or a timeless minimalistic black and white one. Choose the design that makes your heart beat faster and doesn't go out of style (because you plan to keep the map for many decades).
In this post we revealed the 5 most important reasons to mark your travels. But what are your main reasons for having a travel map on your wall? We would love to hear about them in the comments below! And now, when you are more than convinced that you need a travel map in your life, we got your back! Just take a look over HERE