Meet Our New Hanging Accessories: Magnetic Wooden Poster Rails & Copper Binder Clips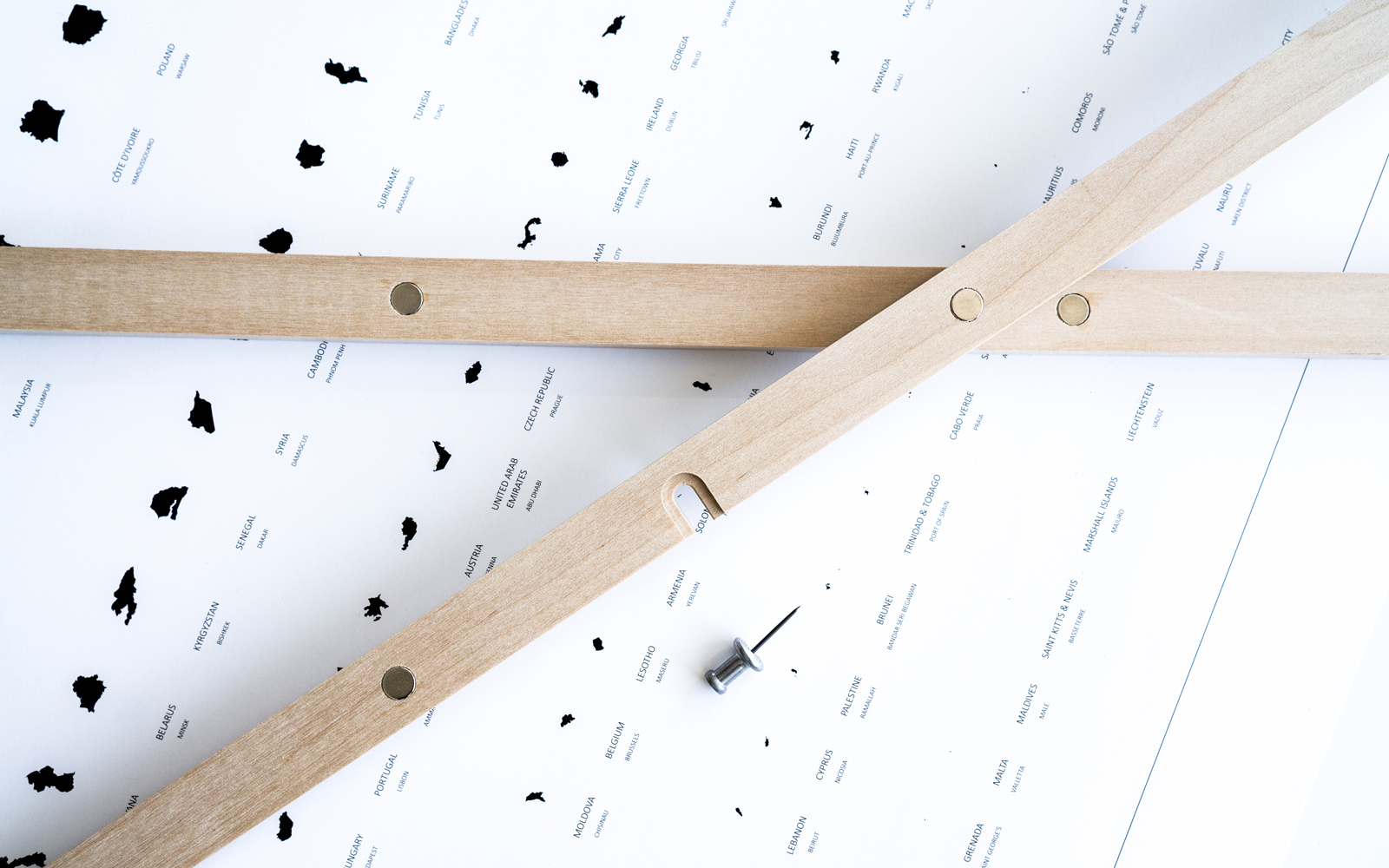 You: It's. About. Time.
Us: We wholeheartedly agree.
Raise your hand if you've ever purchased a poster, map, or print (whilst being deliriously excited to hang it on your wall) only to find it months later, still in its tube, sadly collecting dust in the corner? And the designated spot on your wall is still blank and lonely, yearning—yet losing hope—for past promises of adorned grandeur to be fulfilled? Yep, us, too. Even worse, you receive said poster, map, or print as a gift, haven't hung it yet, and the gift-giver is coming over for dinner. Cue a frantic trip to IKEA (we love IKEA, and it's a great place to find simple, affordable frames). Our marketing manager received a beautiful vintage pull-down map of Italy years ago for her birthday, and wanted to get it professionally framed but it's such an expensive and daunting endeavor. Thus, said map is still in Minnesota, in it's protective paper and giant tube, in her parent's basement. Case in point, and so very sad.
Our designs may not be long-lost da Vincis requiring professional framing, but they are pretty damn cool. We've seen some amazing photos from our customers in which a plethora of creative hanging tools have been used (including traditional framing, Washi tape, hangers, etc.). Kudos to you all, and keep sharing your photos (#boldtuesday). That said, we understand it's so much better when you can buy a complete product that can be hung up ASAP, whether you're buying it for yourself or as a gift. When our posters first came out, we included plastic hanging rails but we discontinued those as we wanted to move toward more sustainable practices. So, we set out to find a solution. As our travel posters and maps have the interactive component (peel, color, add red dot stickers, highlight, etc.), we wanted to provide an alternative to traditional framing in which glass wouldn't get in the way of marking where you've traveled. We love the look of wood, as it's a natural part of a minimalist interior design aesthetic, so we settled on birch in two finishes (natural and black) and two sizes to fit our different posters and maps.
We wanted the wooden rails to be as simple as possible, so they're magnetic and include a unique mounting system that uses an included push-pin to mount it right on your wall. If your walls are on the harder side (e.g. brick), you can still mount them with a nail or screw. Voilà! Call them what you will (we call them WOODEN POSTER RAILS), magnetic wooden hanging poster rails (or hangers or frames) are here for you.
Whilst developing our gallery wall country and state PRINTS, we realized we liked the juxtaposition of metal binder clips with the minimalist black and white prints. They just give the prints a little something "extra" whilst maintaining the Scandi-inspired minimalist aesthetic we were looking for. So we simply decided to have them produced, bundled them as a 4-pack, and now include said 4-pack as a hanging accessory option in our product catalog. Hello, COPPER BINDER CLIPS! They are spring-loaded and strong enough to hold your poster, map, or print yet gentle enough not to cause damage. Some may say they fall somewhere between copper and rose gold, but they lack that really distinct pinkish hue that would make them full-fledged rose gold. We say they're copper and we think they're aces.
GIVE THIS A CLICK TO SHOP BOLD TUESDAY HANGING ACCESSORIES